Víðarr (VIH-dar)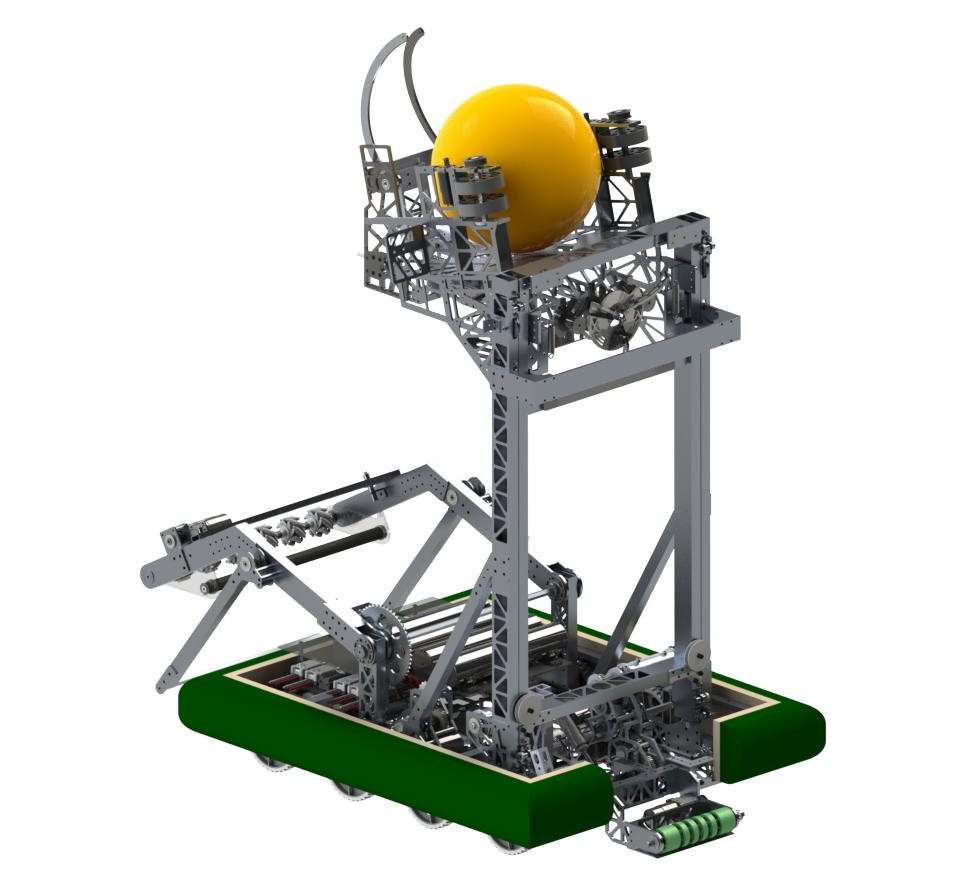 Specifications
Name

Víðarr

Game

Deep Space

Weight

123.7 lbs
Competition History
Del Mar Regional

Semifinalists, Entrepreneurship Award, Dean's List

Great Northern Regional

Silicon Valley Regional
Robot Abilities
8 traction wheel west coast drive powered by 6x NEOs. Theoretical speed of 19.5 ft/sec.
2 stage continuous elevator with Dyneema rigging. Can score hatches and cargo on all three levels of cargo and rocket ship.
Touch-it-own-it cargo intake with 2″ mecanums powered by one 775pro.
Uses rack and pinion mounted under carriage to extend hatch intake mechanism and push cargo into flywheels.
Vision target tracking to adjust robot turning when aligning to loading station and cargo/rocket ship bays.
Forseti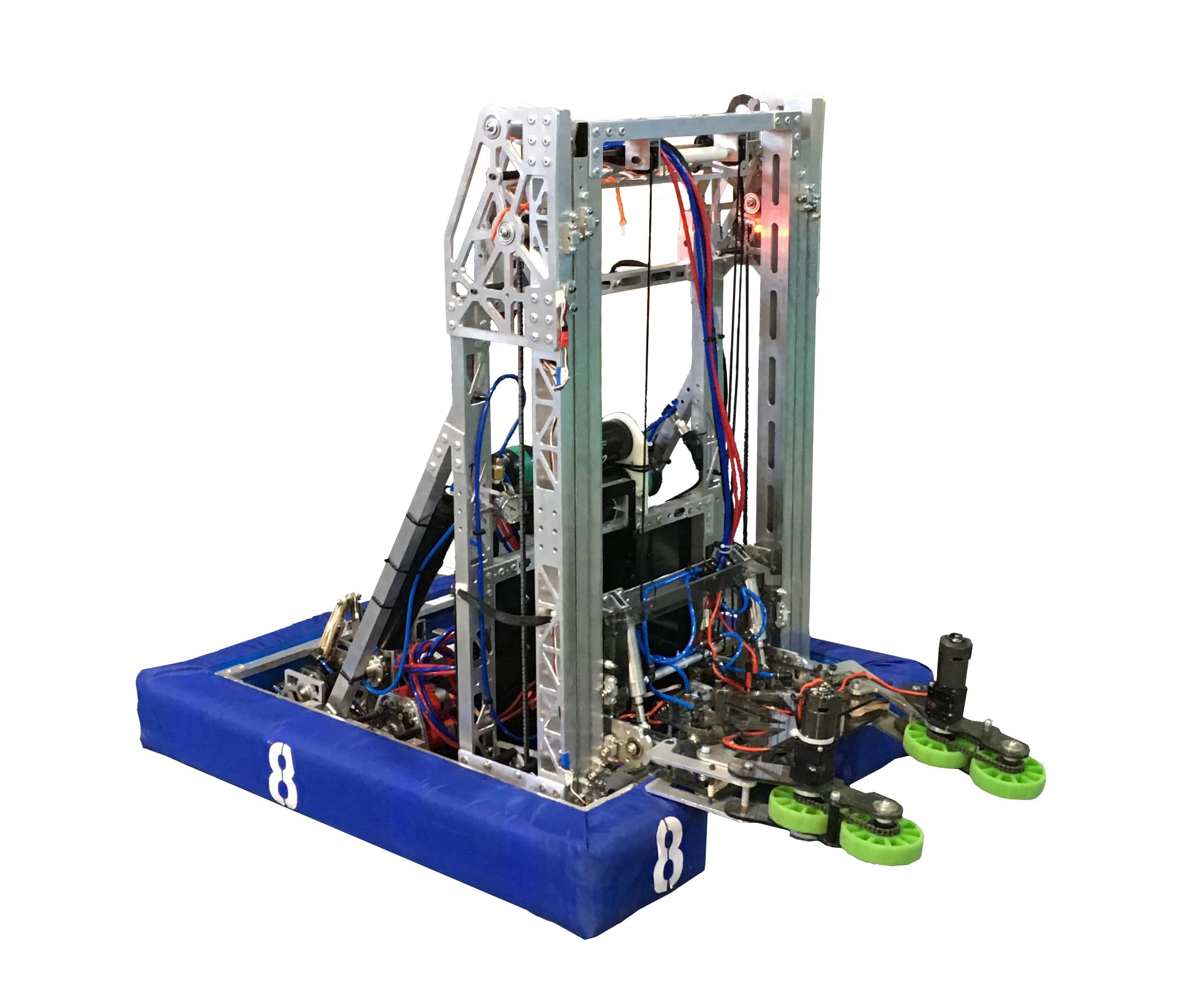 Specifications
Name

Forseti

Game

Power Up

Size

32″ W x 27″ L x 42.6/99.5″ H

Weight

~114 lbs
Competition History
Arizona North Regional

Quarterfinalists, Entrepreneurship Award

Silicon Valley Regional

Semifinalists
Robot Abilities
8 wheel west coast drive powered by 8x 775Pro. Max speed of 16 ft/sec
3 stage cascading elevator with paracord rigging. Can score cubes in the scale even when tipped in favor of the opposing alliance
4" Andymark compliant wheels on 4 bar setup for versatile intake of Power Cubes in multiple configurations
2 cube switch autonomous, single cube scale autonomous
Vali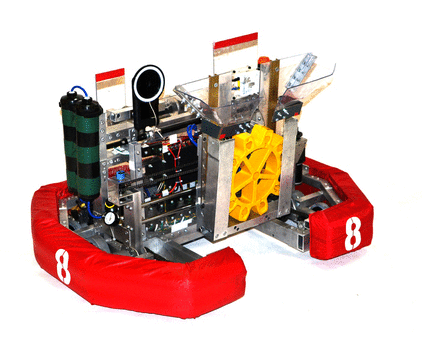 Specifications
Name

Vali

Game

Steamworks

Size

34″ W x 25″ L x 24″ H

Weight

92.9 lbs
Competition History
Ventura Regional

Quarterfinalists, Creativity Award, Entrepreneurship Award

Silicon Valley Regional

Finalists, Entrepreneurship Award

Roebling Division

Semifinalists
Robot Abilities
Max 6 gears per match
10 second climb with velcro winch on elastic velcro rope
Horizontal slider for peg and feeder station alignment
Octogonal bumpers on 8 wheel west coast drive
Center and Side Peg autonomous
Tyr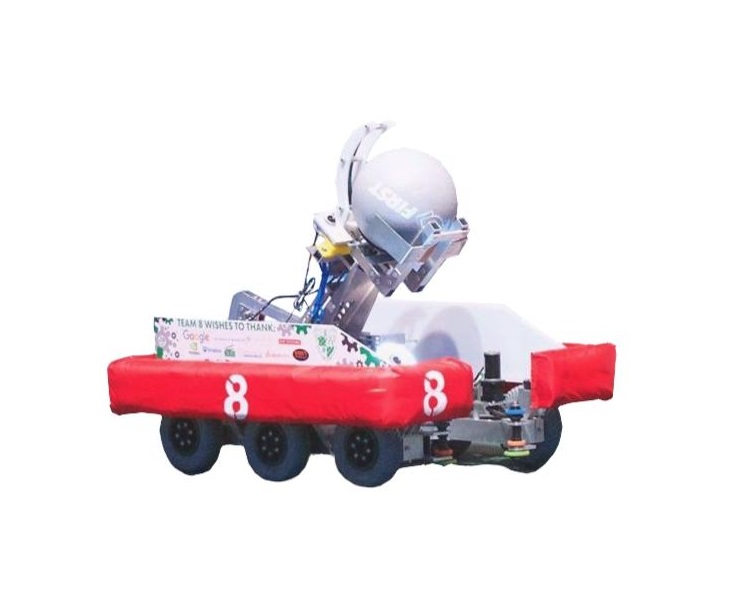 Specifications
Name

Tyr

Game

Stronghold

Size

27″ W x 32″ L x 18″ H

Weight

92.4 lbs
Competition History
Central Valley Regional

Finalists

Silicon Valley Regional

Quarterfinalists

Curie Division
Robot Abilities
Capable of breaching low bar, rough terrain, moat, rock wall, cheval de frise, and ramparts
Can score 3 high goals per match with spring loaded pneumatic puncher
Challenge the tower at the end of the match
4 cim, 6 wheel west coast drive
High goal or defense cross during autonomous